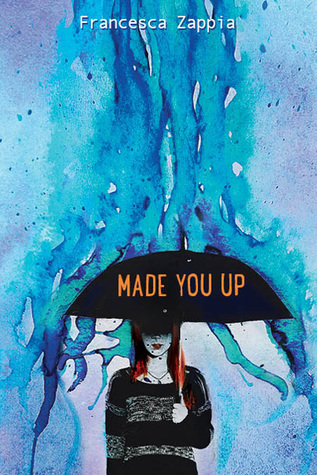 Welcome to my new blog!
4.25 stars 
Goodreads description: Reality, it turns out, is often not what you perceive it to be—sometimes, there really is someone out to get you. Made You Up tells the story of Alex, a high school senior unable to tell the difference between real life and delusion. This is a compelling and provoking literary debut that will appeal to fans of Wes Anderson, Silver Linings Playbook, and Liar.
Alex fights a daily battle to figure out the difference between reality and delusion. Armed with a take-no-prisoners attitude, her camera, a Magic 8-Ball, and her only ally (her little sister), Alex wages a war against her schizophrenia, determined to stay sane long enough to get into college. She's pretty optimistic about her chances until classes begin, and she runs into Miles. Didn't she imagine him? Before she knows it, Alex is making friends, going to parties, falling in love, and experiencing all the usual rites of passage for teenagers. But Alex is used to being crazy. She's not prepared for normal.
Funny, provoking, and ultimately moving, this debut novel featuring the quintessential unreliable narrator will have readers turning the pages and trying to figure out what is real and what is made up. 
Wow. This was great.
I finished this thing in very quickly even though it isn't a small book, it's just that it's so captivating. I have a thing for mental-health books because each one of these disorders fascinate me.
When I was 8 I watched an Oprah Show and she talked about these two girls that gad schizophrenia and it scared me because that was the first time I got upon something of that matter. It also intrigued me and that's exactly why I picked up this book.
As I read this book, with each page I turned, I realize how unique and "beautiful" Alex's mind was. Her mind was art. And art is not always supposed to be beautiful.
At first, the story was a bit too fast. Everything was happening in a short time and I don't like that very much. but I soon realized it's good it was going that way, otherwise everything would be a little too stretched out.
Weird thing was that I din't really know what was true and what was not. I guess that's a good thing since the author showed us just how is it to live with that illness.
I read of Alex's life and how she never felt like she belonged anywhere and that's how all of us feel, at some point. However, Alex had to realize, from an early age, that she is a bit more different from others than she thought she was. So it really bothers me to see what people with schizophrenia have to deal and it bothers me even more to know that if other people knew about their secrets, they would think they are crazy. That is just wrong. All of us are different and unique from the rest, we need to realize that.
So what I must say is: Bullying is wrong! If you ever think of doing something like that to someone else just think of how would your sibling feel, or your best friend… Think of how you would feel in the first place.
This book made me realize all of these things, it's really special and I liked (almost) every character in it.
You should really read it. It's not only funny and fast-paced, but also very beautiful and has a deep meaning to it. I really enjoyed it.
---
Made You Up: http://www.bookdepository.com/Made-You-Up-Francesca-Zappia/9780062290106