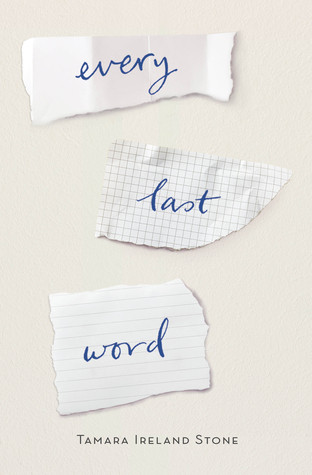 Read on 19th August, 2015
5 stars 
Goodreads description: If you could read my mind, you wouldn't be smiling.
Samantha McAllister looks just like the rest of the popular girls in her junior class. But hidden beneath the straightened hair and expertly applied makeup is a secret that her friends would never understand: Sam has Purely-Obsessional OCD and is consumed by a stream of dark thoughts and worries that she can't turn off.
Second-guessing every move, thought, and word makes daily life a struggle, and it doesn't help that her lifelong friends will turn toxic at the first sign of a wrong outfit, wrong lunch, or wrong crush. Yet Sam knows she'd be truly crazy to leave the protection of the most popular girls in school. So when Sam meets Caroline, she has to keep her new friend with a refreshing sense of humor and no style a secret, right up there with Sam's weekly visits to her psychiatrist.
Caroline introduces Sam to Poet's Corner, a hidden room and a tight-knit group of misfits who have been ignored by the school at large. Sam is drawn to them immediately, especially a guitar-playing guy with a talent for verse, and starts to discover a whole new side of herself. Slowly, she begins to feel more "normal" than she ever has as part of the popular crowd . . . until she finds a new reason to question her sanity and all she holds dear.
WOW, what a perfect way to finish your summer vacation by reading this book. Believe me, this way the only thing I was excited about.
This book was highly anticipated so I decided to pick it up and read it, little did I know I would enjoy it this much.
To be honest, I didn't like the beginning. I liked the way she described her disorder but I didn't like some other things about her (like her friends which I later realized she didn't like either). But I still made myself read more and more of it. In the meantime, I started to like it.
OCD is something I'm not very familiar of. I know about the part where you're obsessed about something so much (like certain numbers or colors) that you just can't let go until everything's the way you want it to be, but I realized it's not only about that.
It made me think that we all have a little OCD side in ourselves, some just more than the others. But you know you have a problem when your obsession starts to mess with your life.
Sam deals not only with OCD but also with anxiety, which makes everything even harder for her (I can relate to that lol). She thinks she is crazy, even though she's only a little different. She hides her disorder from everyone, even her so-called best friends.
But when she meets Caroline, a mysterious outcast girl, she has this urge to tell her everything about herself, which she does. She finds out she isn't the only one with problems.
Even though they share a strong bond, Sam hides Caroline from her friends what Caroline doesn't really mind. Still, Sam knows that's wrong.
When Caroline introduces her to a group of people and what's called a Poet's Corner, Sam starts to relax and spend more and more time in that room than with her friends. She finds herself liking a boy, AJ more and more, but finds out the two of them have a not-so-great past together. Still, they fall in love.
The thing I also liked were the poems. I like poetry a lot so when I get a book that has so many wonderful things I like in it, I sure as hell am gonna read it. You should, too 😉
---
Every Last Word: http://www.bookdepository.com/Every-Last-Word-Tamara-Ireland-Stone/9781484705278