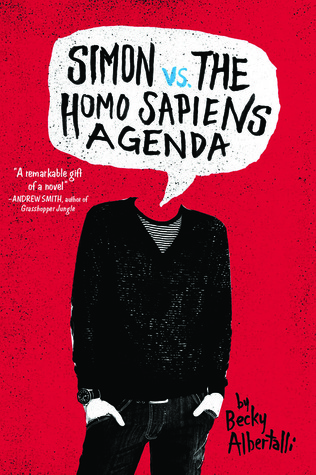 4 stars
Goodreads description: Sixteen-year-old and not-so-openly gay Simon Spier prefers to save his drama for the school musical. But when an email falls into the wrong hands, his secret is at risk of being thrust into the spotlight. Now Simon is actually being blackmailed: if he doesn't play wingman for class clown Martin, his sexual identity will become everyone's business. Worse, the privacy of Blue, the pen name of the boy he's been emailing, will be compromised.
With some messy dynamics emerging in his once tight-knit group of friends, and his email correspondence with Blue growing more flirtatious every day, Simon's junior year has suddenly gotten all kinds of complicated. Now, change-averse Simon has to find a way to step out of his comfort zone before he's pushed out—without alienating his friends, compromising himself, or fumbling a shot at happiness with the most confusing, adorable guy he's never met.
The thing I liked so much about this is that it reminded me of Attachments by Rainbow Rowell. There's something about those e-mail types of romance books that I just adore so much.
This book is so fun and fast-paced and I read it in a day which as I couldn't put it down. This book is the kind of book you really don't want to sleep because you just want to continue reading it.
I liked all of the characters inside this book and they were all so quirky and funny, especially Simon, our main character.
Simon knows he's gay but still doesn't want to share it with others. So, when a nerdy joker called Martin, sees an email he sent to Blue, a boy he loves but has never seen him, Simon has to protect both himself and Blue by helping Martin go out with, Abby, Simon's best friend.
This thing was so funny that I caught myself laughing out loud at some points. Simon is your typical teenage guy that is still on the verge between a child and an adult. He has grown a little tired of his parents, his sisters have become totally different than before and he just feels bad not telling his friends that he doesn't really like girls.
As the time passes, bad things happen but eventually, everything falls back into place. Just like in every contemporary book.
I loved this book, just a perfect read for a weekend. I myself, love people in LGBT community (I'm still figuring out if I belong in it, myself) and I'm totally okay with it.
All in one, very cute and quick read. You should read it, if you haven't yet.
*SPOILER ALERT*
But of course there were some things I didn't like. Like, for example, a person who turned out to be Blue.
I wanted it to be Martin so bad but as soon as Simon said it couldn't be Martin I thought I was gonna start crying. I love Bram but what I love even more are those hate-to-love kinds of relationships.
I still secretly thing Martin has a tiny crush on Simon.
Simon vs. the Homo Sapiens Agenda: http://www.bookdepository.com/Simon-vs-Homo-Sapiens-Agenda-Becky-Albertalli/9780062348678