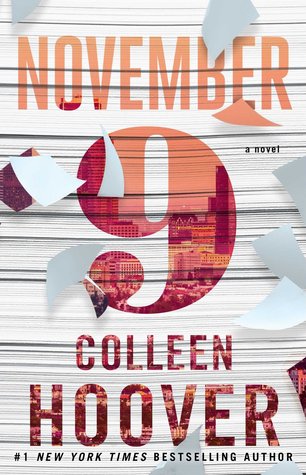 ---
4.25 / 5 stars
---
Goodreads description: Beloved #1 New York Times bestselling author Colleen Hoover returns with an unforgettable love story between a writer and his unexpected muse.
Fallon meets Ben, an aspiring novelist, the day of her scheduled cross-country move. Their untimely attraction leads them to spend Fallon's last day in L.A. together, and her eventful life becomes the creative inspiration Ben has always sought for his novel. Over time and amidst the various relationships and tribulations of their own separate lives, they continue to meet on the same date every year. Until one day Fallon becomes unsure if Ben has been telling her the truth or fabricating a perfect reality for the sake of the ultimate plot twist.
---
Wow, this was beautiful. Colleen Hoover never fails to impress us with her writing skills.
First of all, the story is very unique. Of two different but very similar people who fall in love but decide to see each other on only one day every years, the day they met and the day that holds a lot of memories – November 9.
Fallon is quite a smart girl and I liked that. She's very good at noticing stuff, kind of like a female version of Sherlock Holmes 😉 The scars that cover her face and body don't make her any less beautiful. As a matter of fact, they bring out the beauty of her soul.
Ben is a writer who sees the beauty beneath her scars. He help her get out of her shell.
What I did not like is that they were quite young. I don't know a lot of 18 year old people who act that mature, seriously. It would be better if the story took place from ages 20-25.
This was heart-shattering, just like every other CoHo novel. I didn't expect 60% of things to happen and it makes this novel even better! Some of the plot-twists were really shocking and made me want to cry. You see, this book is both happy and sad in the same time.
What wanted to see a bit more is Fallon's relationship with her father. I really wanted to see how they got closer and forgave each other (mostly how Fallon forgave him).
This is not my favorite novel of hers, that place will be taken by Ugly Love for a very, very long time.
All in one, a great novel. Very fast paced. I went through it very quickly. It's not really light as it deals with quite serious matters. Also, beware of sexual scenes. There isn't many of them but there still is some. I didn't have that much problem with them.
---
November 9: http://www.bookdepository.com/November-9-Colleen-Hoover/9781471154621